Checking for Joomla or WordPress Updates and Upgrading
By now you will have setup some sites in YourSites and the client plugin is installed on these and connected to your YourSites server. 

When you make site selections, by clicking the checkboxes next to each site entry, new action items in the top toolbar are enabled.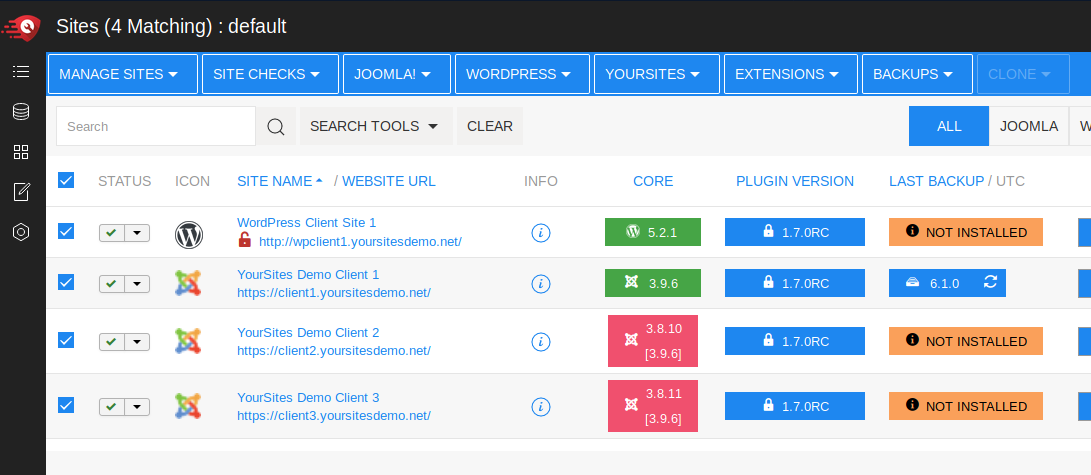 You can now check for Joomla or WordPress Updates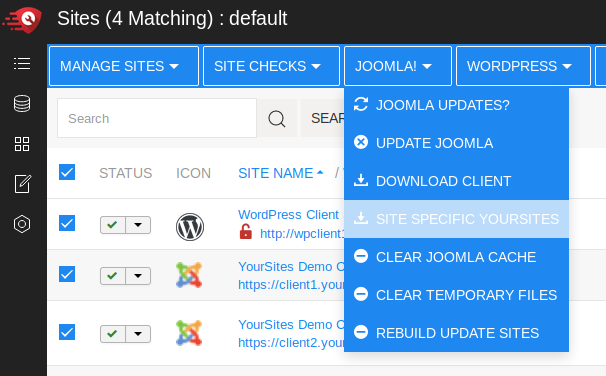 Taking the Joomla! updates check as an example YourSites will check the selected site for available Joomla updates.  This check takes place on the client site and will therefore take account of options you may have set for LTS or STS upgrade paths and if you need an interim upgrade before upgrading to the latest release e.g. version 3.6.1 needs to be upgraded to 3.6.5 before upgrading to later releases etc.
A progress box shows all the sites being processed and updates the display as they are completed.


Once the checks are completed you can get more information about the action by clicking the [+] button.

This case our version of Joomla is up to date on one site and out of date on two.
If you close the popup the list is updated and sites with available upgrades will be clearly highlighted.
Upgrading Joomla
You can upgrade a single site by clicking the red icon on the relevant site entty

Or if you select multiple sites that need upgrading you will be presented with the option to 'Joomla! -> Updatee Joomla' - click this and YourSites will communicate with the client sites and initiate the Joomla upgrades.


Some of the above screenshots refer to Joomla 3.x - YourSites is, of course, fully compatible with Joomla 4 for running the YourSites server and to manage Joomla 4 sites.